World Pedigrees Reports
Worldpedigrees offers the ability to search a large number of on-line pedigree databases. These databases are made available by individuals who have requested us to host them on our web site. We provide a number of functions and reports as listed below.
Search Page
The user typically enters a search string in the Search page as shown below. The number of generations displayed in pedigrees can be selected, the search results can be ordered by name or DOB and fields other than Name can be searched.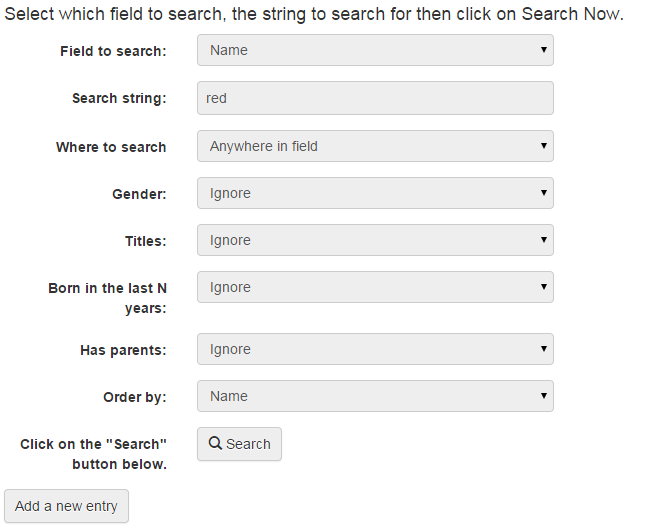 Search Results
Clicking the "Search Now" button returns a list of matching names. Underneath each name is a link to various reports. Clicking on one of these links will display that report for that entry.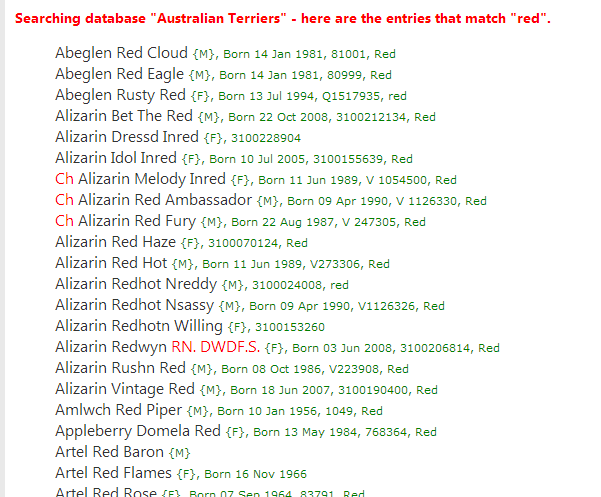 Pedigree Report
This is a standard "boxed" pedigree. The number of generations is selected on the at the top of the page. (Screen shot is of a made up pedigree). All ancestors are hyperlinked so clicking on one takes the user to the pedigree for that ancestor.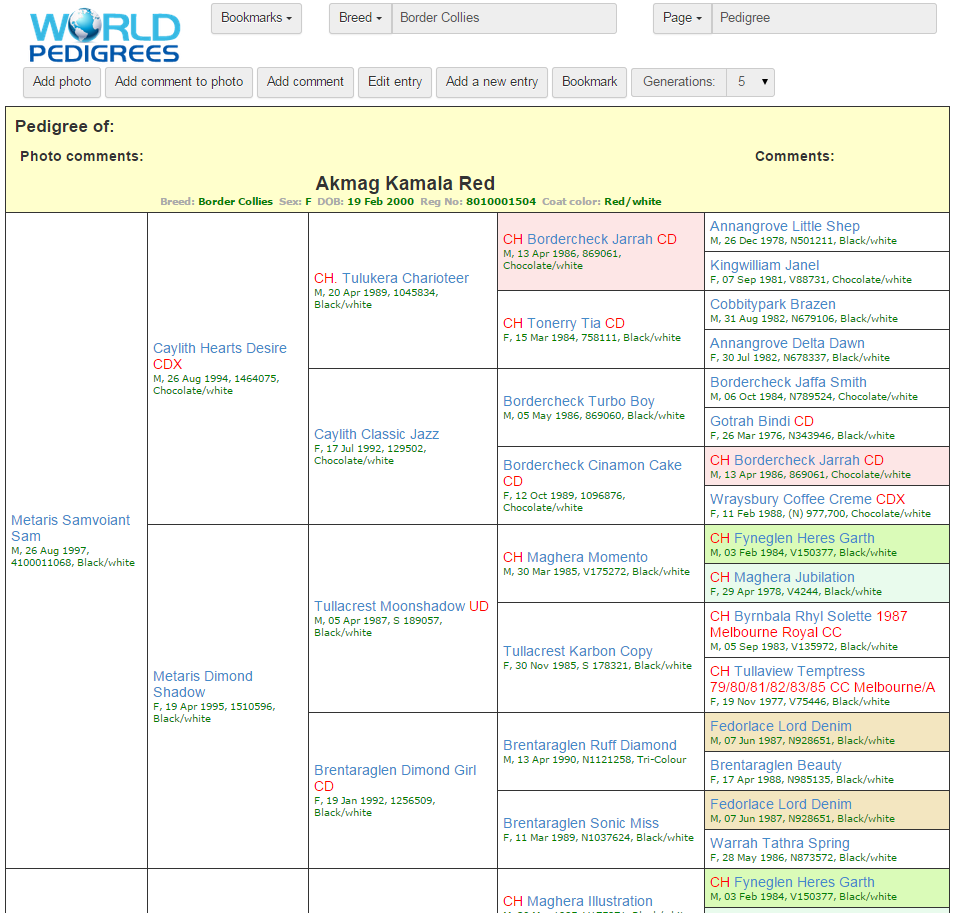 The Inbreeding report for a given entry it will list that entry's COI calculated to 20 generations, then it lists all the ancestors for 20 generations with the each ancestor's COI, COR (Coefficient of Relationship), Percent of Blood and Line Breeding. The COR for the later generations is calculated using fewer generations so is less accurate.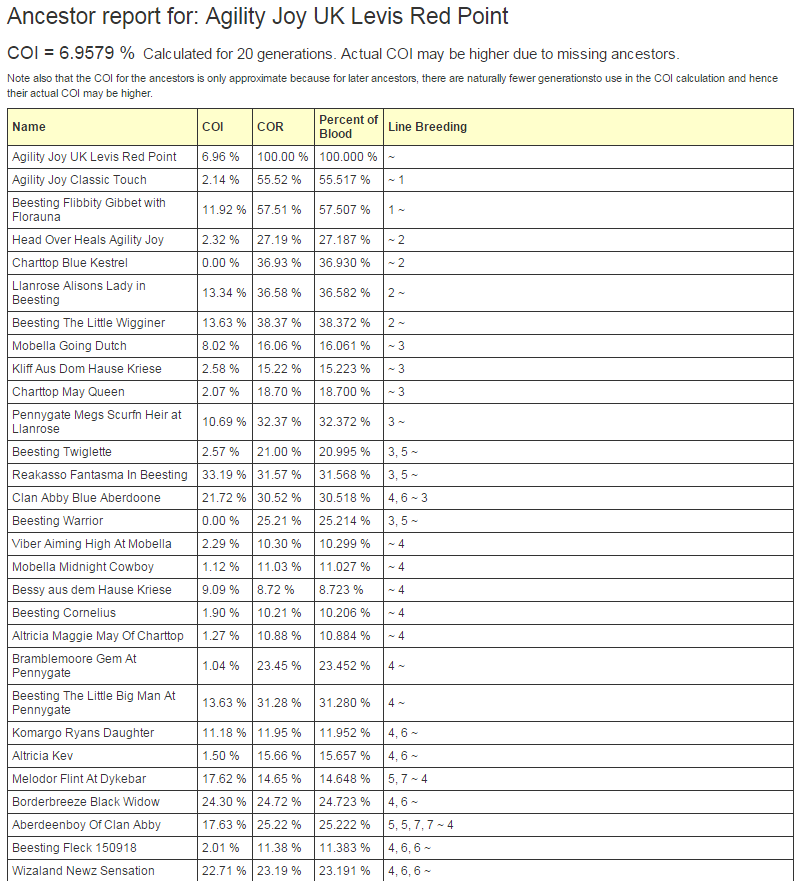 Breeding Report
The breeding report lists the subject entries main details, sire, dam and then each litter they have produced in date order with the mate and offspring.
Vertical Pedigree
The vertical pedigree is the same as a normal pedigree except that for each ancestor it lists the full siblings, hyperlinked and with some details like color and date of birth.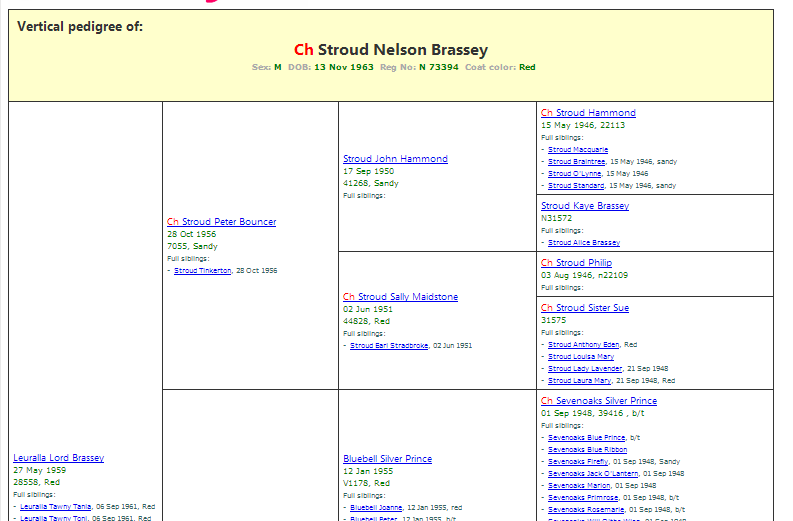 PDF Pedigree
The PDF pedigree is an actual PDF document generated on-the-fly from our web site. It can be saved or printed.
Pedigree Chart
The pedigree chart can show up to 30 generations in one chart. The images are huge and can be zoomed and panned using the normal browser controls - e.g. hold down the Ctrl key and use the mouse wheel, or use Ctrl+ or Ctrl- to zoom and use the scroll bars to pan.